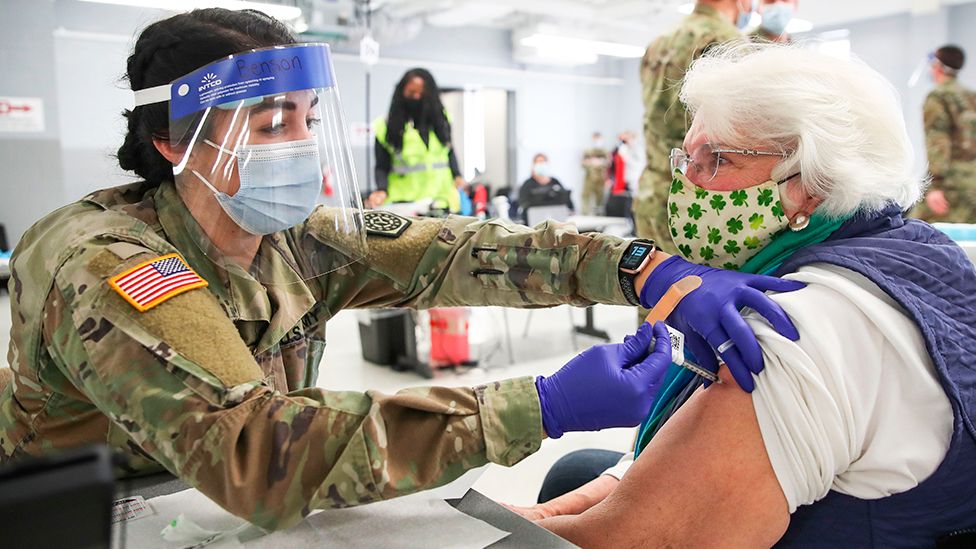 It's been a long winter for the US, with hospitals seeing more coronavirus patients than at any point in the pandemic and the average number of daily deaths topping 3,000 for the first time.
But as spring approaches, the number of infections is now falling and the vaccination programme looks to have overcome some of its initial problems.
So is the US on track to get back to some form of normality in 2021 or do new variants of the virus mean further setbacks are ahead?
We've taken a look at the data and spoken to an epidemiologist to assess the situation.
The winter surge has peaked
The average number of daily cases in the US had been rising since September – apart from a few dips due to incomplete data over holiday periods like Thanksgiving and Christmas.
But as you can see from the chart below, daily cases have now been falling since early January.
There are, however, still more than 120,000 new infections every day on average and it's unclear whether the recent decline will continue – especially now the US has cases of the more highly transmissible variants of virus, first discovered in the UK, South Africa and Brazil.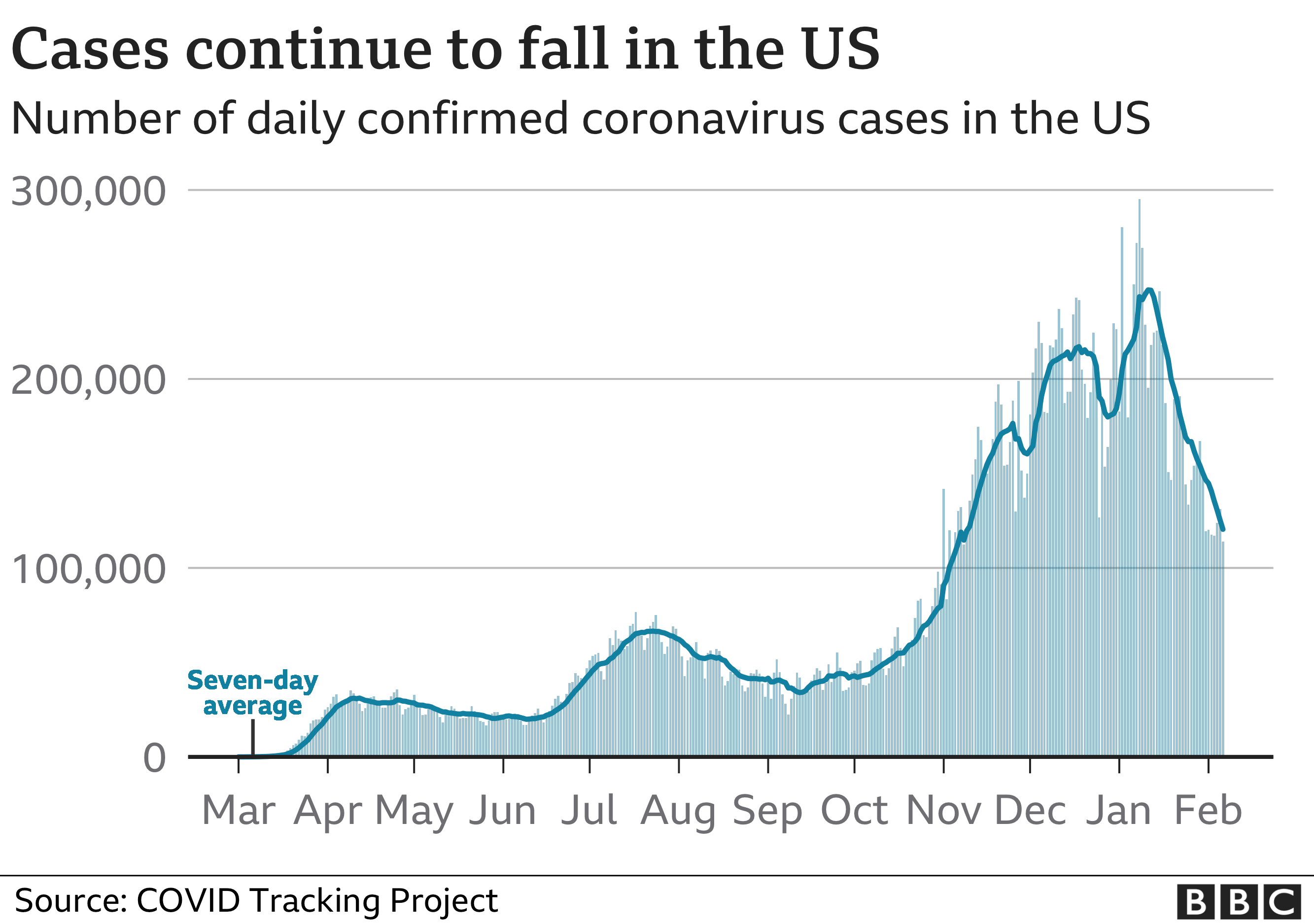 Overall, there have been nearly 30 million confirmed cases in the US – the highest figure in the world. But as testing was so limited in spring last year, the true number is probably much higher.
One study by scientists at the US Centers for Disease Control and Prevention suggested the real number was as high as 100m towards the end of last year.
Hospitals are still under pressure
Although the decline in cases is good news, it will be a few weeks before it has any major effect on the number of coronavirus patients in hospitals across the US.
That number has been falling for a few weeks now, but more than 80,000 people are currently in hospital – that's still 20,000 more than during the two previous surges last year.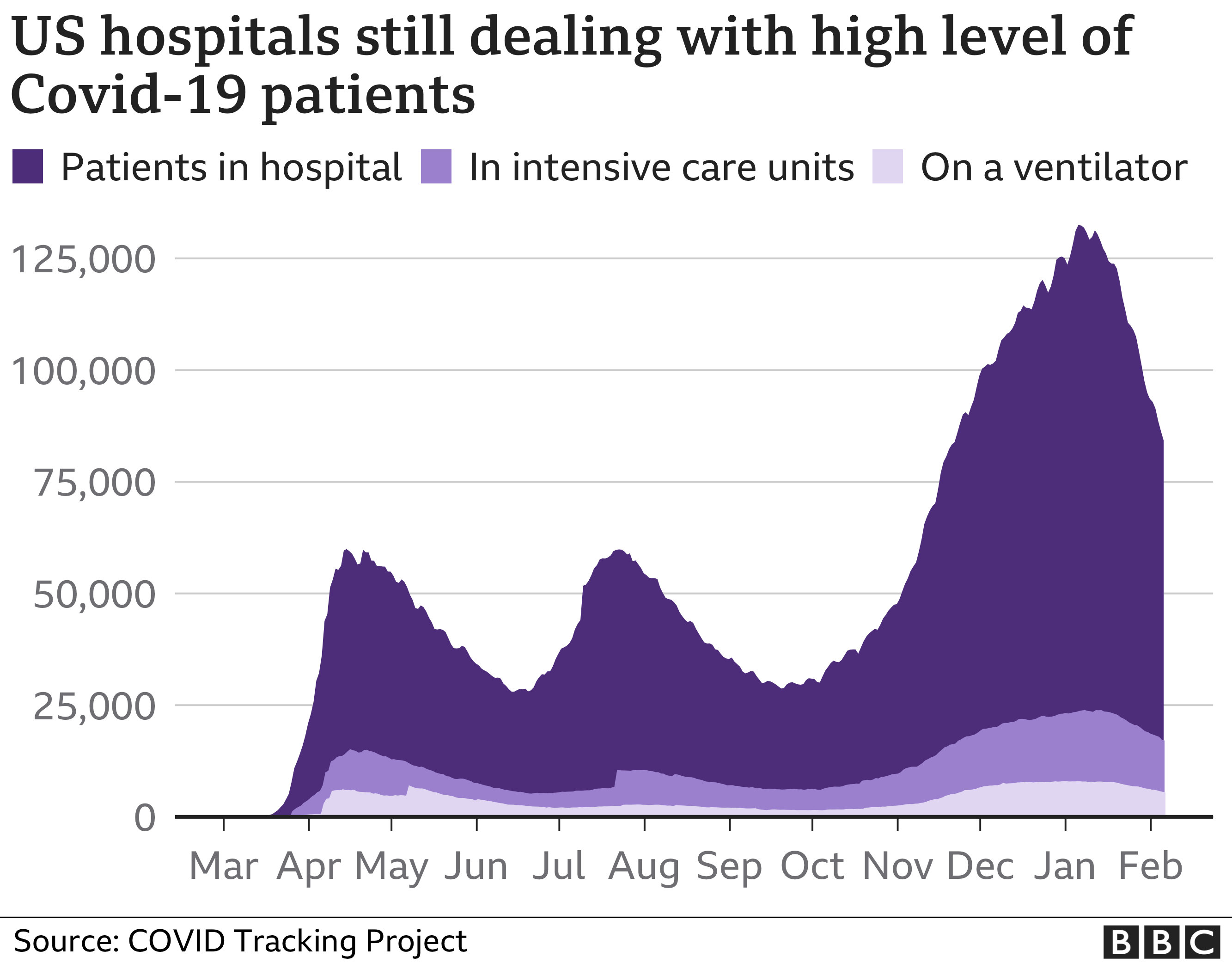 The latest data compiled by the COVID Tracking Project shows the number of Covid patients in hospital is falling in all four regions of the US, with the Midwest having seen the biggest drop since the start of the year.
Deaths will be slow to fall
January was the deadliest month of the pandemic in the US, with 95,000 deaths reported – more than a fifth of the overall death toll of 460,000.
The average number of deaths remains extremely high at 3,000 a day at the moment, but there are now signs of a small decline in recent days.